Hi all! Can you believe this weather?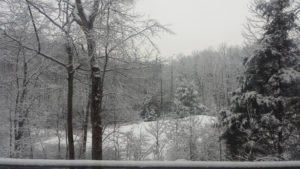 It has been snowing hard all day. My bees I'm told were out enjoying the apples down at the farm over the weekend. As Callen was walking up the hill Sunday he got a little too close to the hives and got stung right in his temple. That means the guards were out. It makes me a little concerned about today's weather. I'm glad we never moved the hay bales away from the hives like we've been thinking about.
Today I'm not going to stress about the bees though. I'm going to talk to you about my new products and what's going on with us. I had mentioned before about the body butter. Well, I bought an apron and have learned that I have to have someone in the kitchen to help me. Even with the apron the body butter was going everywhere so I had to buy a bigger pan. I've experimented with how much scent to put in and just the right temperature to make it not be gritty.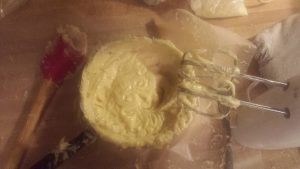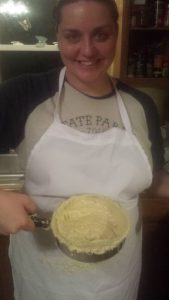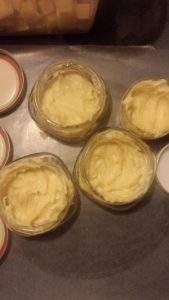 I didn't understand what I was doing wrong but after making a few batches I think I'm getting the technique. It has to come off the heat at just the right moment and needs to be stirred a certain way. There's just so much that goes into these. I have finally perfected my lavender and now I have lemongrass eucalyptus. I'm trying to figure out what scent to do next. I found some vanilla and coffee oils online I've been considering. We had our first booth and the lemongrass eucalyptus seemed to sell the best.
Next I decided to try a lotion bar. Maybe it'd be a little less messy.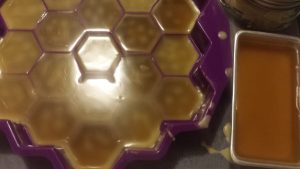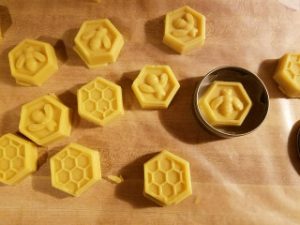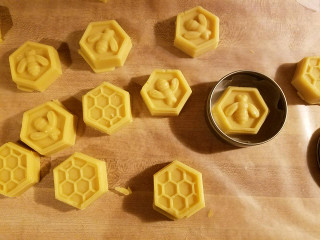 These turned out great! My girls love them. They even like them better than the body butter. In fact my three year old likes to sneak into the bathroom and use the lotion bar as much as she can. She says, "Now I'm all soft." I love that my girls can use my products and love them as much as I do. I never have to complain about dry hands or about my girls having dry hands. It's not a struggle to get them to moisturize. 
I'm told some people use their body butter on their face. I haven't experimented with that but I can say I love how good I smell when I get out of the shower no matter if I've used the body butter or the lotion bar. With the lotion bar I have lavender of course and I made lavender with wild orange. I tried to use very little of the wild orange and somehow it's come out smelling like orange chocolate. It has a lot of cocoa butter in it.
My next experiment is a hand and body cream. It has no butters and all oils. I love it so much! I've only made one batch so far and I didn't get it quite creamy but with all of the oils it gets the job done. It's the one jar I leave in my purse at all times. Even my husband and children have tried it. My husband hates lotion but he let me put it on his hands that were cut to see if it would help and he said it didn't burn. Plus if you don't use too much it doesn't take long for the oil to absorb into your skin. I'm looking forward to making more of this.
I met a lady when I was working at my first booth who couldn't handle scents. She is very sensitive to them so I'm going to make sure to have products with no added scents. I'll be working on these products as well. With the body butter I made a batch without a lot of scent but I could smell the shea butter and I'm just not a fan of that smell by itself. It's something I'm looking forward to taking on as I go forward. I'd like to be able to have something for everyone.
So I mentioned I had my first booth. It was at a volunteer fire department.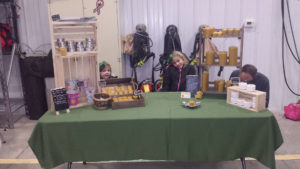 I loved it. I learned so much and I met so many amazing people. It was pretty scary at first. Even though I love working with the public and I've worked the front desk for other events this was the first time I was putting myself out there and I didn't know if I was quite ready. My sales show that I am ready. I was even asked about farmer's markets. I've been hesitant but I'm ready now. I love my cosmetics so much. I love making candles and learning more and more new techniques. I even had a new mold waiting for me when I got back from that event.
So in just less than three weeks I'll be doing another event with hopefully more scents and new candle styles. At least it's indoors. So if you happen to be in the area and want to stop by to try these products and candles for yourself it's April 7th from 11am-7pm at the Flat Rock Fire Department. They're having a fish fry and lots of different vendors as well. Check it out if you're interested.
I do hope to be in a farmer's market or two this summer if I can keep up with the inventory and my two girls. Hopefully the bees will be okay and give us plenty of honey and wax to keep us going. We have been looking at property to expand and it's so fun to dream and think about the future. I hope everyone loves these products as much as we do so we can keep going. If there's any suggestions on what you're interested in please let me know. I love hearing from everyone. If there are things you don't like I need to hear them so I can grow and learn new techniques.
I appreciate you all and I hope you stay warm in this crazy weather.
Thanks,
Kiley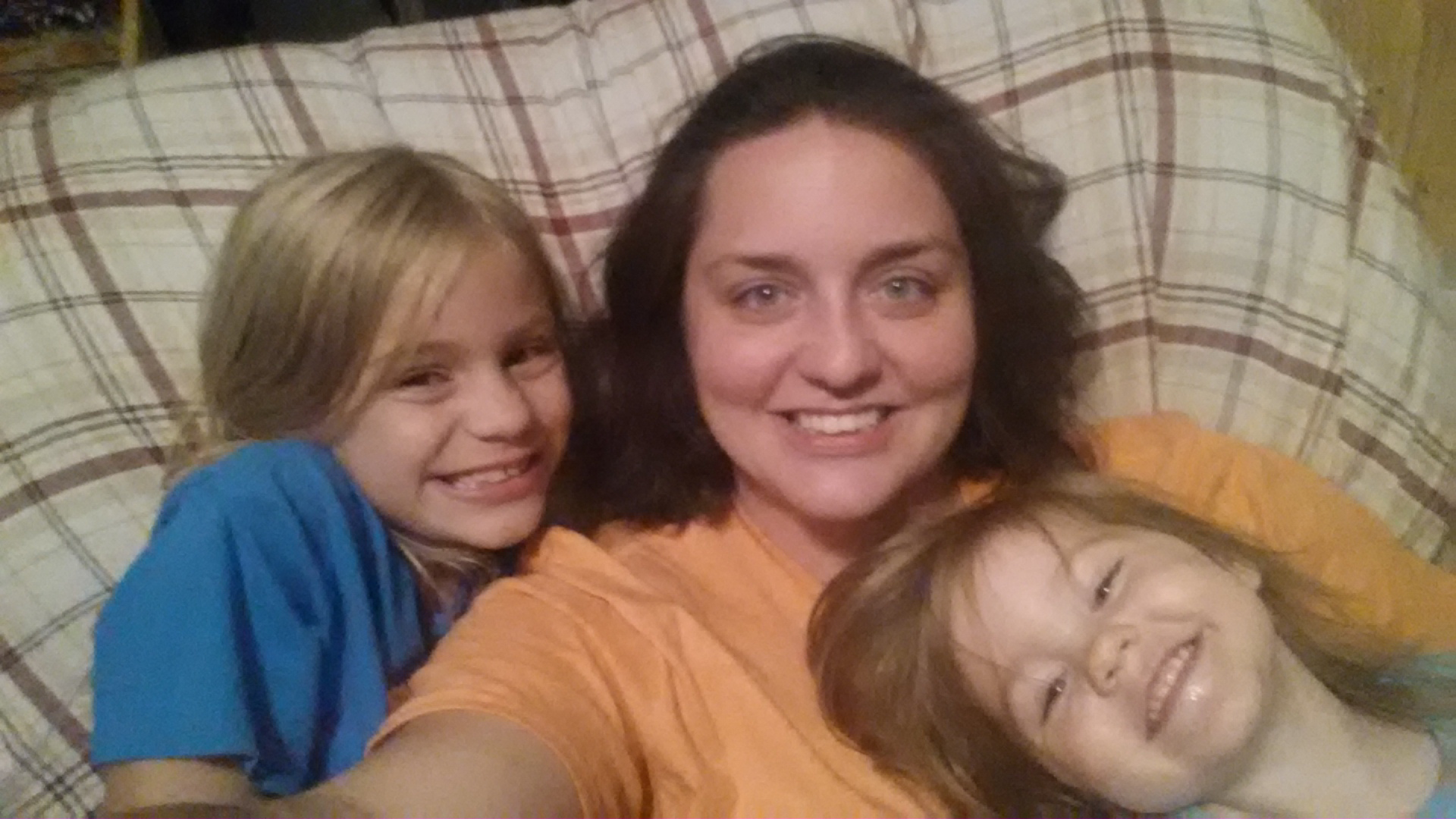 Hi there! I've been a stay at home mom for 8 years and when my husband decided to become a beekeeper I thought, "Yeah right." It turns out through his passion I found mine. I love making candles and cosmetics. I'd love to hear what you think.
Thanks, Kiley